Two Roads Hospitality recently published the results of the 'State of the Meetings Industry' survey, including a forecast for expected trends to look out for in 2018 – and all signs point towards a year in which meetings and events will become an even more potent force within the hospitality industry.  According to the 300 respondents, 33% reported that they're planning more meetings than they did in 2017. What does that mean for your property? Increased revenue! But you have to be ready. Here are our top tips to ensure you're ready to capitalize on the predicted uptick in event demand.
Pleasing spaces
Seventy-four percent of the State of the Meetings Industry respondents said a fun meeting space is key, including nontraditional elements such as comfortable seating options and unique locations. Planners are seeking mixed environments (think lounge-style seating on a rooftop) to appease the meeting industry that has shifted from leader-led to attendee-led for friendlier business gatherings.  To make your brand stand out and to relax guests, consider developing a signature scent to make any space more inviting. Guest Supply carries an extensive collection of fragranced goods that will define the guest experience. Our sales team will work one-on-one with you to explore scent diffusers, scented steel polish, scented oils and scent bars. We also offer an extensive selection of durable yet modern and fun furnishing options designed for a more casual approach to business meetings.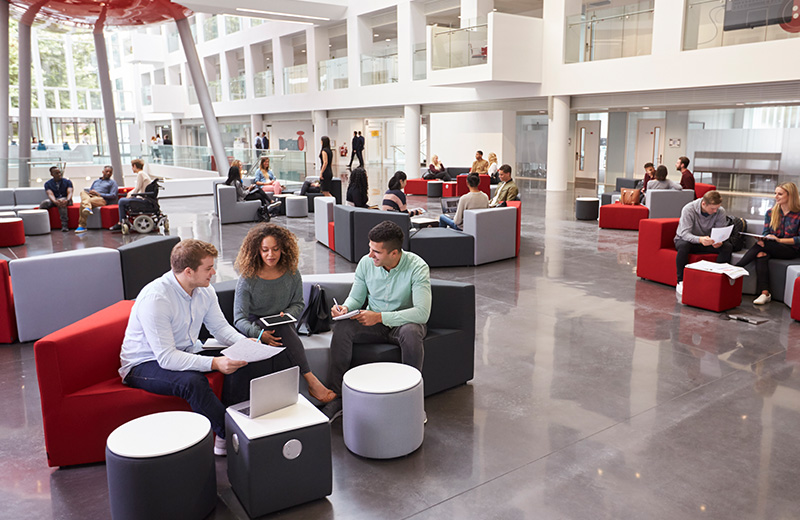 Food and beverage service
Behind location and rate, food and beverage service was the next most important factor in selecting a meeting location, up from 8.6 in 2016 to 8.74 in 2017 out of 10. Venues should strongly consider destination-specific food and beverage offerings to maximize attendee satisfaction. Guests prefer to experience local flavor when traveling, so adding regionally-specific offerings will make your venue unique and attractive to the modern meeting planner. Signature cocktails are also a great move – have your F+B team brainstorm a drink that goes along with the theme of the event for that extra WOW factor.  Our wide variety of food service options will help ensure that the presentation is as impressive to the eye as the edible offerings are to the palate.
Technology
On-site technology should exceed modern expectations. Bandwidth is a top concern according to the State of the Meetings Industry survey. Guests will always want to charge their devices to be in ready communication with their offices. In addition to foolproof WiFi, make sure you have ample charging stations within easy reach to maximize the convenience of your guests.
Concerns
One of the top concerns of 2018 is security. All industry studies pointed towards this as being one of the most pressing issues amongst planners and attendees. From the latest in door-locking systems and latches to in-room safes and fire alarm monitoring systems, make sure you can easily showcase the safety and security of your property when meeting with prospective event holders.
At Guest Supply, we've got all of your meeting and event needs covered.  Speak with one of our sales team members to explore all of your options today.