Accessibility is a unique challenge for those who have outfitted their homes with accommodations and modifications that may not be readily available while traveling. Beyond location and price, quite a few guests have accessibility concerns. These can include reaching the bed or sink, knowing when the phone rings, feeling safe and being treated with dignity. Many hotels are not even aware of the issues differently abled guests experience when traveling for work or pleasure. The Americans with Disabilities Act (ADA) requires all hotels to make their facilities equally accessible to those who are differently abled. The following solutions enable your property to be in compliance with the ADA.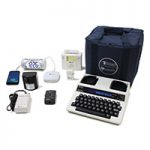 ADA Compliance Economy Guest Room Kit
Guests who are hard of hearing or deaf need to know when someone is knocking on their door, the phone is ringing and that it is time to wake up. This Krown kit includes a visual door knock signaler, handset telephone amplifier, visual telephone ring signaler and an alarm clock with bed shaker, all in a soft shell case. Portable, convenient and economical, this solution can be set up in any guest room, including ADA mobility rooms.
ADA Compliance Deluxe Guest Room Kit with Visual Emergency Notification System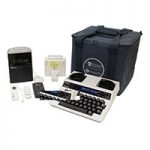 Our ADA Compliance Deluxe Kit meets the current ADA communication access requirements in full. The visual emergency notification system is to be used as a bridge from the hotel's existing built-in fire alarm to the strobe and sound receiver placed in the room of a hearing-impaired guest. The transmitter sends a wireless signal to the strobe and sound receiver to notify your guest of an emergency. It also offers an alarm clock with a bed shaker, doorbell transmitter, visual telephone signaler, and handset telephone amplifier in a soft shell case.
ADA Krown TTY PortaView 20 Junior for Guest Room Telephones
Guests who are hard of hearing, deaf and speech impaired want to communicate as needed or desired. This text telephone makes any telephone accessible for a guest with hearing impairments. Any conversation can be carried out by typing and reading the display. Guestroom units are display-only, while a TDD/TTY with printer is suggested for the front desk.
Roloff Stools ADA Short Stature Access Kit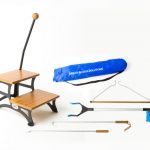 From arthritis sufferers to those of short stature, well-built stools such as the Roloff Stool allow for great adventures via easier, safer travel. These stools allow the user to accomplish daily tasks such as showering and locking the door with ease. The short stature kit includes a step stool with six-inch step heights, push-pull tool, security latch adaptor, reach grabber and closet rod adaptor.
Hookless® Plain Weave Shower Curtain, Polyester
Made of 100 percent polyester fabric, the full panel Plain Weave curtain offers a classic look and ADA-required size for compliant showers without the need for a liner. This easy maintenance solution features an ultrasonically cut bottom hem, matching flat Flex-On® rings, and weighted corner magnets.
WingIts® Portable Tub Bench, Phenolic White, Exceeds all Building Codes and ADA Criteria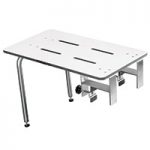 Guests can use this bench in the tub or shower with confidence. Two adjustable clasps secure the bench to the ledge of standard tubs. Note that bench feet must rest on the flat surface of tub for proper fit. All models are available in phenolic, white or teak finish. Custom sizes are available.
To learn more about how you can better serve all guests, contact us today.