Are guests staying a while? Whether for long-term business or holiday, travelers desire the feeling of home when they are not able to be there. Small comforts like having a coffee maker and refrigerator for cream are more convenient than guests calling room service or venturing into the lobby for a cup of joe every single morning. Explore the following appliances to make your property a temporary home for your guests.
Automatic Coffeemaker
Guests working late nights or being up before dawn to fit in all the historic landmarks and museums will appreciate brewing a pot of coffee to their liking with grounds or pods with the STAY by Cuisinart® automatic coffeemaker. This premium appliance operates with one press of a button and features an automatic shutoff function.
Cordless Electric Kettle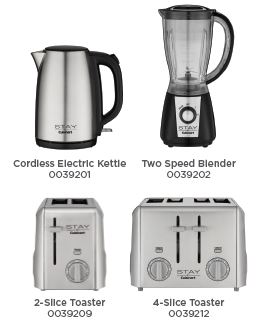 Tea and coffee lovers will delight in this convenient kettle by STAY by Cuisinart® that holds 1.7 liters of water. A clear window allows for quick checks and refills. The concealed heating element prevents buildup from minerals for the freshest tasting water possible.
Two-Speed Blender
Staying healthy on the road can be a challenge. This two-speed blender by STAY by Cuisinart® makes whipping up smoothies, hummus, guacamole and vegetable purees an easy experience. The large handle makes carrying and pouring from the 48-ounce plastic jar smooth by design. The modern aesthetic complements most extended-stay interiors.
Two-Slice and Four-Slice Toaster
Guests can have a quick in-room breakfast or snack with the STAY by Cuisinart® toaster. The two- or four- slice model has one-and-a-half inch toasting slots and seven browning levels. Clean up is easy with a slide out crumb tray.
Danby Top Mount Refrigerator, 18 Cu Ft, Energy Star Rated, Black Chassis, Stainless Steel Door
Featuring glass shelves, electronic controls with digital display, reversible door and see-through crisper, guests will appreciate the virtually noise-free operation.
Danby 24″ Built-In Dishwasher, Black and Stainless Steel Front
The Danby 24″ Built-In Dishwasher has 12 place setting capacity, electronic controls with digital display, six wash programs and four temperature settings to make clean up a pleasant experience for guests. Water consumption is low and the operation is virtually noise-free.
Danby 1.6 cu. ft. Over the Range Microwave, Extended Stay, Stainless Steel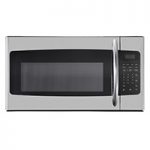 Heating up a meal is as easy as pressing the one touch cooking options. With 10 power levels to choose from, guests can speed defrost and much more. This appliance fits over the range and offers convenience.
Guest Supply is committed to providing solutions that exceed the expectations of our customers and their guests. Speak with one of our sales team members to explore how to enhance the extended stay of each guest with high-quality appliances.