At Guest Supply, we take pride in helping clients adopt a more sustainable business model through the manufacturing, sourcing and distribution of a full spectrum of hospitality products that meet and exceed best practices for environmental sustainability.
Personal Care Amenities
No toxins, natural ingredients.
Guest Supply's eco-friendly personal care amenities are formulated without sulfates, parabens, phthalates, DEA, TEA, propylene glycol, mineral oil, and petroleum products to protect water.
Biodegradable packaging.
The bottles and caps are blended with a nontoxic compound called EnviroClean, which accelerates the degrading process in a typical landfill.
Recycled packaging.
Packaged in recycled paper containing natural soy inks.
Dispenser solutions.
Soap dispensers reduce costs and impact on the environment by reducing waste and required production material by 40% (compared to individual portions).
No animal testing.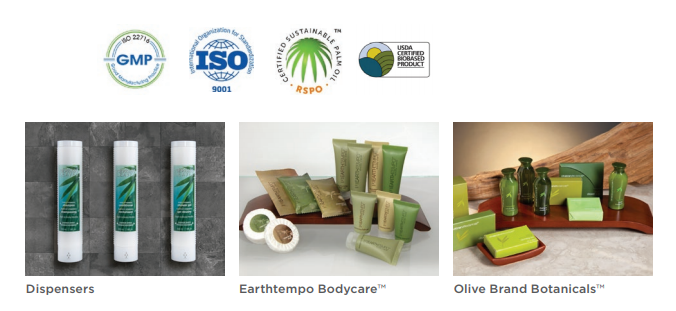 Food Service

Bath and Bed Linen
Renewable and sustainable raw materials.
Our linen and terry products are made principally from cotton, which is a renewable and sustainable raw material. Certified organic cotton is available by special order.
Energy saving.
Guest Ready™ products come ready to use right out of the box – eliminating the need for initial laundering which saves energy.
Recycled content.
The polyester in many of our products includes recycled content ranging from 25% to 100%. This use of recycled resins helps to minimize waste in landfills, while reducing the demand for new petroleum-based raw materials.
No harmful chemicals.
Certification by the international testing lab Oeko-Tex and AZO-free processing provides assurance that our products are free of harmful chemicals.
Recycled and recyclable packaging.
Packaged with recycled and recyclable materials and reduces landfill waste.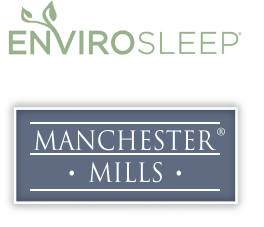 Janitorial and Housekeeping
Award-winning innovation.
The Aquanomics Laundry Program received the 2011 Cleantech Tekne Award for environmentally sound solutions.
Save natural resources & improve operational efficiencies.
The Aquanomics Laundry Program helps reduce water and the energy usage by up to 40% over traditional laundry programs.
Phosphate-free and NPE-free chemistry helps protect waterways and the environment.
Reduce plastic waste.
Ecolab solid chemistry reduces plastic waste up to 74%
Bio-enhanced can liners will degrade in an active landfill, reducing the amount of plastic going back into the waste stream.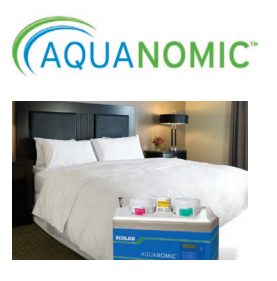 Paper Products
Recycled post-consumer fiber.
Guest paper products contain at least 20% post-consumer recycled fiber. Many are made of 100% recycled fiber.
Green Seal Certified.
Certified for chlorine-free processing, energy and water efficiency, and 100% recovered / 50% post-consumer content for towels, napkins and wipes / 25% post-consumer content for tissue.
UL ECOLOGO® Certified.
Products certified for reduced environmental impact.
Innovative Boxless packaging.
Going boxless reduces packaging waste up to 69%, requires 50% less storage space and is made of recyclable LDPE poly.
EPA Guidelines Compliant.
Meet or exceed EPA Comprehensive Procurement Guidelines