The American Hotel & Lodging Association has announced a pledge to provide hotel employees with safety devices and honor a commitment to enhance policies, training and resources on this subject. These efforts are being made to prevent and respond to sexual harassment and assault, with the goal of having broad implementation well before 2021. As part of their dedication to providing high-quality solutions, Guest Supply has partnered with SABRE and is now introducing Personal Alarms offering competitive pricing and warranties. Managers can designate a location on housekeeper and other staff uniforms to place one of the following personal alarms.
Take control today and explore the following safety options to make your property a safe working environment.
Legal in all 50 states, personal alarms are just some of the products Guest Supply offers to make staff feel safe before, during and after their shifts.
SABRE Personal Alarm Key Chain
When the metal chain is pulled, a 120 decibel (dB) alarm sounds. The pin can be pushed back in to stop the sound and for re-use. A front button turns on an LED light to signal location.
SABRE Personal Alarm with Adjustable Wrist Strap
An easy-to-use metal ring activates a 130 dB alarm. The pin is designed to be pushed back in to stop the sound or for re-use. Workers can conveniently wear this on their wrists.
SABRE Personal Alarm Clip
With a press of a button, a 120 dB alarm can be turned on and off. Additionally, a button on the right side of the device cycles through three LED light modes. Available in black and pink.
SABRE Personal Alarm Key Ring
This device emits a 120 dB alarm once the chain is pulled. The design allows the pin to be pushed back in again to stop or restart the sound.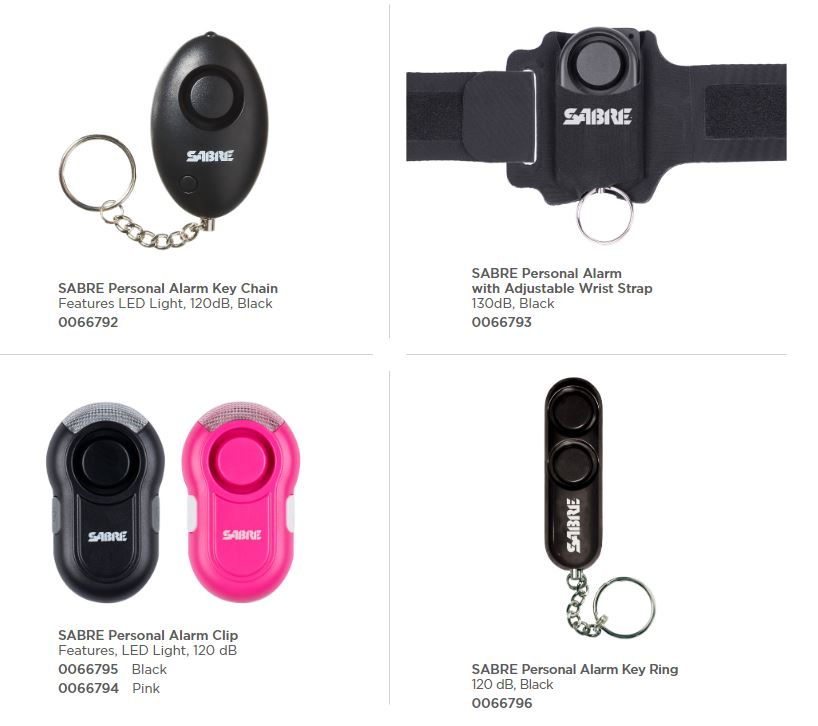 Ensure the safety of every worker with Guest Supply. Our commitment to providing solutions for peace of mind and top-tier protection gives you a wealth of options. Get started today by speaking with one of our sales team members to secure your property.