More than any other time in history, pets are treated as valued members of the family. A survey by the American Hotel & Lodging Association found that 51 percent of U.S. hotels allow pets, and Trip Advisor found that 53 percent of 1,100 participants travel with their pets. Of those, 52 percent will only consider pet-friendly properties. While traveling with pets remains complex as weather and triggers are uncontrollable, hotels can be their guest's best friend by giving pets everything they need to feel comfortable and safe.
Pet waste disposal stations
Pet waste disposal stations are a must as a pet-friendly hotel. It is no longer enough to have a designated grassy area. Pets and owners want the freedom of the great outdoors without worrying about leaving piles of fecal matter around for the inconvenience of others. Ideal for any outdoor area, the Regal, Imperial and Monarch stations are constructed from galvanized steel and contain the necessity of proper disposal via a locking bag dispenser and receptacles.
Pet-friendly amenities
Placemats, bowls, toys and treats are just a few items to make a pet feel at home in a hotel. Placemats help catch food from the messiest of canine or feline diners with non-skid rubber to make cleanups easier. Additionally, each bowl from Guest Supply is dishwasher safe and makes mealtimes less of a worry when traveling. Best selling Kong dog toys are bouncy enough to reduce anxiety in small, medium or large sizes.  It would not be a pet-friendly hotel without dog treats. Guest Supply offers all-natural dog treats in a savory chicken flavor with carrots, sweet potatoes, apples, bananas and honey.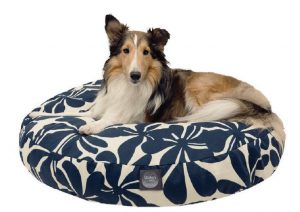 Dog beds
Some guests allow dogs to sleep on the bed with them at home but may refrain while traveling. Guest Supply offers dog beds that are the perfect combination of style, practicality and comfort for any pet. A removable zippered slipcover allows for easy machine washing. Guests will sleep easier knowing that these beds are stain and water resistant.
Cleaning products
Staff can also get excited about four-legged guests with the right supplies to make cleanup easier. Lint rollers remove pet hair from surfaces and hard to reach areas. They also allow guests and staff to do a clean sweep of their clothes. Guest Supply offers vacuums that remove pet hair from carpet and hard surfaces. Pet odors are unwelcome, and Guest Supply provides a wealth of options to remove smells that bite. Offering odor eliminators that do not use fragrance cover ups, spotters from Ecolab promote daily maintenance that can be used on all synthetic carpet types. Explore fabric fresheners, stain removers and multi-surface cleaners.
Guest Supply has everything you need to make furry guests feel like the cat's meow!