In the United States, it's estimated that Americans dispose of 500 million straws each day. These one-time use plastics find their way into the ocean and into the stomachs of marine life, including 71 percent of seabirds and 30 percent of turtles. Major food companies and international organizations have set goals to make single-use plastics a thing of the past.
The hotel industry is leading the waste reduction initiative, with numerous iconic chains, such as Hilton and Marriott, joining eco-resorts as champions of the environment. As more properties become aware of the drawbacks of plastic straws and increasing consumer concerns, the time has come to choose paper over plastic. Paper straws are the biodegradable option that breaks down within three days and returns to the earth within six weeks.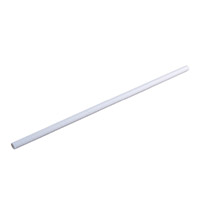 Guest Supply is proud to offer Empress Earth, top straw choice for sustainable guest options. These high-quality disposables are made with cutting-edge technology and harvested from renewable resources that include cornstarch, bagasse (a byproduct of sugarcane extraction) and polylactide.  Choose available wrapped and unwrapped in multiple lengths. Plus, these products are also fully recyclable and biodegradable.
Guest Supply is proud to support green initiatives that positively impact the environment. Speak with a sales team member to upgrade your guests' experience today.