Despite a property's best efforts, 68 percent of insect control professionals say that bed bugs are the hardest pest to exterminate. They cause welt-like bites and a rash, resulting in bad reviews and potential lawsuits. In addition to a damaged reputation, hotels spend an average of $6,383 per bed bug incident.
Guest Supply has a plan of action to rid your property of these pests.
Early detection
Housekeeping staff should inspect every room as often as possible. According to Dr. Christine Johnson, a behavioral ecologist at the American Museum of Natural History's Division of Invertebrate Zoology, an inspection can be done by pulling back the linens to check the border of the mattress and behind the headboard. Don't waste time checking the bathrooms. These pests rarely travel beyond 15 feet from the bed. Look behind picture frames, telephones, clocks and couch pillows.
Document
Keep careful records of in-person and online complaints, inspection reports and treatments. This will help you know which rooms are hot zones. Consider setting up a reward system for staff who are the most alert.
Planned prevention & maintenance
Attention must be paid to prevention. Seal off hot zones to prevent breeding in hard-to-reach areas. Use sealed mattress and pillow casements. Dusting interior room perimeters and entry-ways with desiccants like Harris Bed Pug Powder will leave a barrier that protects for years.   Harris liquid treatments can also be used as a preventative maintenance measure for up to 4 months.  Consider partnering with local exterminators to demonstrate to guests that you are aware of these issues and addressing them.
Vacuum freeze and steam
Staff should take extra care to vacuum every inch of the headboards, mattress seams and the 10 feet surrounding beds. Roller brushes need to be checked and bags should be sealed before disposal. Ice out bed bugs by placing bedding, pillows and covers in temperatures below 32 degrees for up to three days. Steam is also effective. Send all infected bedding for a steam wash to kill larvae, pupae and fully grown pests.
Treating Infestations with heat and chemicals
Do-it-Yourself chemical treatments from Harris can treat rooms for under $20. They can also be used in conjunction with heat.  Killing bed bugs with heat is a proven method but heat leaves no residual control to kill bed bugs that may be re-introduced to a room. Chemical treatments provide added protection after heat treatments.  Treating adjacent rooms both above, below and adjoining rooms is always a good practice when treating infestations.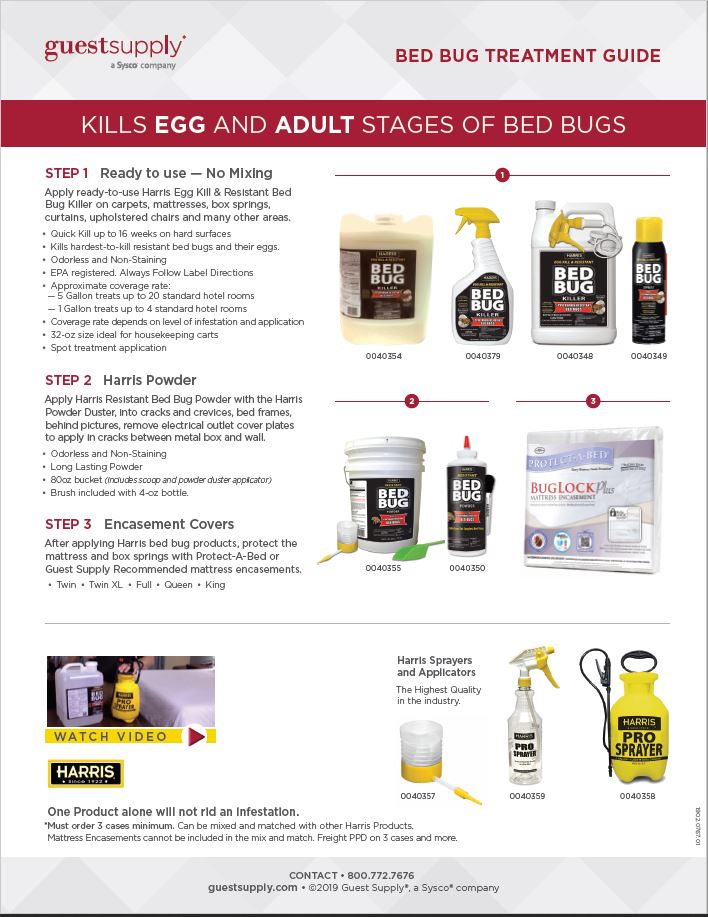 Guest Supply is committed to providing solutions that provide peace of mind for guests.