Named after the treasure or "stash" of tea sea captains were entrusted to carry around the world, Stash Tea's all-natural assortments will take you on a journey of flavor, one cup at a time.
Each Stash product is safe and healthy for guests and the environment, with plastic-free, unbleached tea bags, GMO-free cotton string and GMO-free herbs and spices. This concern for the environment and the health of consumers extends to farmers and suppliers. As a B Corp, Stash partners with everyone involved to use the business as a force of good, committed to enhancing the lives of employees, customers, the community, and suppliers while keeping the planet in mind.
Selections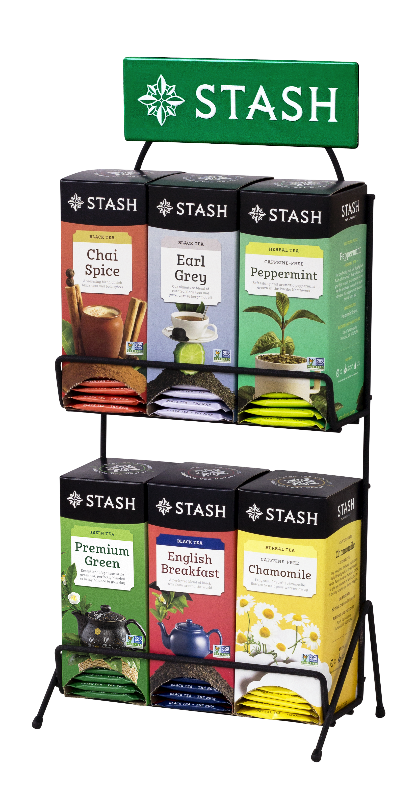 Full of antioxidants and flavor, tea is the most consumed beverage in the world after water. Guests will appreciate having an assortment to choose from.
Orange Spice Black Tea
Peppermint Herbal Tea (Caffeine-Free)
English Breakfast Black Tea
Earl Grey Black Tea
Premium Green Tea
Moroccan Mint Green Tea
Lemon Ginger Herbal Tea (Caffeine-Free)
Jasmine Blossom Green Tea
Chamomile Herbal Tea (Caffeine-Free)
Wild Raspberry Hibiscus Herbal Tea (Caffeine-Free)
Chai Spice Black Tea
Pomegranate Raspberry Green Tea with Matcha

Electric kettles
Complement Stash Tea by providing guests convenient electric kettles. Guest Supply offers Hamilton Beach Commercial, Sunbeam Hospitality, and Conair selections.  All feature an illuminated power button, viewable water reservoir, auto shutoff with boil-dry protection, and a concealed heating element. Options are available in various sizes in both plastic and stainless steel.
New customers
Stash Tea would like to introduce their assortment of flavors to new customers. With a first-time order, a filled Stash Tea chest and rack will be sent to the property at no cost.  Please contact Stash Tea sales support at business@stashtea.com or 800-547-1514 to order the FREE 56010 Filled Tea Chest or the FREE 53030 Filled Tea Rack. Please include your contact name and title, property name, shipping address, phone number and Guest Supply account number. For more information or to place a Stash Tea order, please contact your local Guest Supply territory manager.
Don't get yourself in hot water! Explore options for exceptional flavors guest will love by speaking to a Guest Supply sales team member today.