With the increased attention to sanitation and its impact on the health of guests and team members, cleaning should go beyond just surfaces. On average, people spend 90% of their time indoors inhaling up to 2,700 gallons of air. It's important that your property is providing clean, well-ventilated air in addition to your new cleaning protocols. Guest Supply offers a selection of products that eliminate odors, air contaminants & particles both in rooms and throughout your property.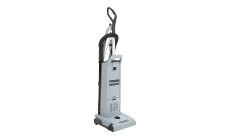 HEPA VACUUMS
HEPA vacuums improve indoor air quality with a high-performance, three stage HEPA filtration system. They capture 99.97% of particles at 0.3 microns using a design that creates a seal with the carpet to capture dirt and dust other vacuums miss.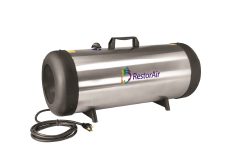 RESTORAIR
The Rapid Room Recovery Unit quickly eliminates one-time or flare up odors, with a treatment time of 60 minutes or less. It is effective against: Norovirus, influenza, allergens, mold spores, and other air and surface contaminants as well as eliminating smoke (in non-smoking rooms), food and pet odors.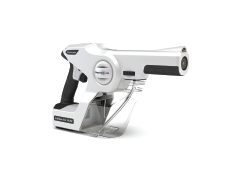 EVACLEAN PROTEXUS ELECTROSTATIC SPRAYERS
This complete system, featuring cordless electrostatic spraying technology, was designed with optimal 360-degree, touchless disinfecting and sanitizing capabilities. Reduces infection rates and reaches up to 3X more surfaces in the same amount of time it would take with today's buckets, rags, wipes and other infection control tools.
Visit CleanwithGuestSupply.com to learn more about how to clean, sanitize and disinfect your property