Scrub Daddy® Sponges feature ergonomic design with innovative technologies that work together to deliver superior cleaning power. Texture changing, non-toxic and scratchfree smiling scrubbers are the smart solution for kitchen and bathroom cleaning. Odor resistant and dual-use design is perfect for delicate applications as well as heavy-duty jobs.
Plus, sponges are hygienic and safe as they are all individually wrapped. Cleaning tasks such as stuck-on, burnt messes, countertops, microwaves, refrigerators, bathroom cleaning and more is a breeze with this family of sponges.
Features
Hygienic – safe, individually wrapped sponges
Changes Texture – Firm in cold water, soft in warm
Odor Resistant – No smell for 8 weeks, lab tested
Doesn't scratch – Safe on over 25 common surfaces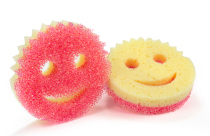 Perfect size for kitchen and kitchenette and Extended Stay. Also may be used as a guest giveaway.
Scour Daddy®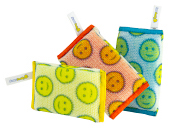 Removes stuck-on and even burnt messes. Use on everything from oven racks to cast iron pans.
Sponge Daddy®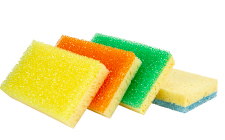 Perfect for counter tops, mirrors, microwaves, and refrigerators.
Eraser Daddy 10X®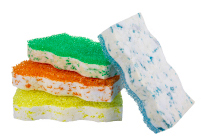 Perfect for tubs, tiles, walls, door frames, switch plates, baseboard, cabinetry and more.